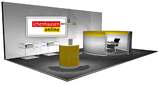 You want to represent your company at a trade show with professional-looking presentations to impress your students or trainees with cunning teaching or demonstrating your colleagues your latest results from the development department?
We will undertake the production of the presentation according to your ideas and put onto the disk of your choice.
We show you how to create a successful presentation of his testimony. Will help in the preparation or your school staff in dealing with presentation programs.
If you want you can use the equipment for it to borrow from the projector to the laptop with us.